In January 2022, Yaote instrument successfully signed a contract with Dahua pharmaceutical glass reactor project! Yaote's leadership attached great importance to the glass reactor project. At the initial stage of the project, the company sent project team personnel to the customer's site. After field investigation and communication with the customer's leadership, the company provided the customer with a perfect solution for the glass reactor, which was deeply recognized by the user. On that day, the company reached an intention of cooperation with Yaote instruments.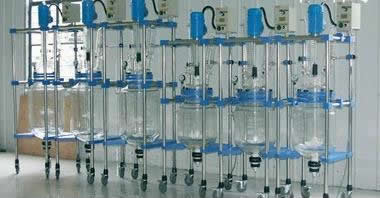 Founded in 1991, Shanghai Dahua Pharmaceutical Co., Ltd. is an enterprise designated by the national health and Family Planning Commission and the State Food and drug administration to produce family planning products.
The company's main product levonorgestrel silicone stick (levoplant) is a world leading, safe and effective long-term contraceptive sustained-release preparation. This product has been used in China since 1994, and its contraceptive effectiveness is very high. It is classified as one of the "most effective" contraceptive methods by the World Health Organization.
The company is located in Chongming, Shanghai, covering an area of 2.5 hectares, with greening accounting for about 50% of the total area and a total construction area of 4500 square meters. The plant is designed and manufactured according to GMP standards, including class C purification plant, quality control center, product warehouse, administrative management and training center.
Dahua pharmaceutical first passed the 1998 GMP certification of the China National Drug Administration in 2004 and passed the review in 2009. Dahua pharmaceutical again passed the 2010 GMP certification of the China National Drug Administration in 2013 and passed the review in 2018. In order to explore the international market, Dahua pharmaceutical passed the GMP certification of the World Health Organization (who) for the first time in 2013, and has passed GMP review for many times since then. In June, 2017, Dahua pharmaceutical's levonorgestrel silicone rod (II) successfully obtained the World Health Organization pre qualification certification (who PQ).
In addition, Dahua pharmaceutical has also established ISO9001, ISO14001 and iso45001 management systems respectively, and has passed the determination of the UK NQA certification body.
In recent years, many national drug regulatory agencies from all over the world have carried out evaluation and audit on Dahua pharmaceutical, and the inspection results all believe that the quality of Dahua pharmaceutical products and plants meet international requirements and standards. Our goal is to ensure the quality, safety and reliability of products and improve the reproductive health of women all over the world.
As of July 2020, levonorgestrel silicone rod (II) (levoplant) has been registered and approved in more than 30 countries around the world.